Posted On: February 21, 2023 by Peoples Bank of Kankakee County in: Home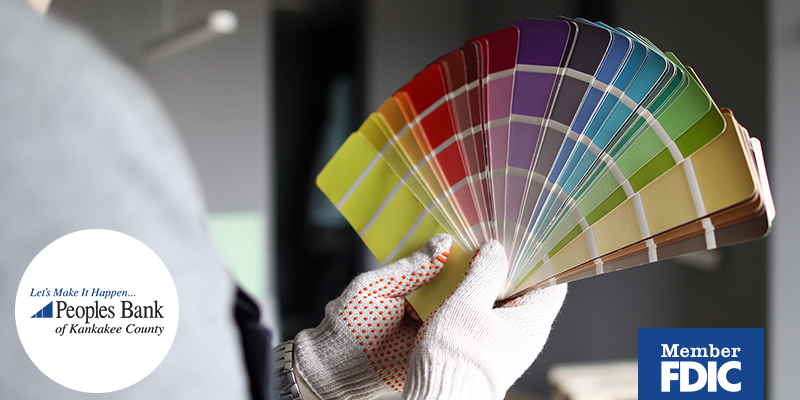 A new year brings new home trends, including new home interior color palettes. If you are thinking about a remodel, renovation, or a simple paint job, you'll want to keep reading.
2023 Color Palettes
The shades and hues you'll see in 2023 are a variety of timeless, yet cozy tones. The color palettes have a common theme to accentuate a comforting home. These colors have a combination of rich and restorative colors that linger on the natural warmth side.
As you search for 2023 paint colors, look for:
Sunny golden hues

Earthy tones

Terra cotta of natural clays
Deep jewel tones (reds, greens, blues, and violet)

Natural greens with hints of silver and blue undertones

Warm shades of beige over grays
2023 Paint Trend: Neutrals
The neutrals you'll see this year will be on the warmer side. From warm-whites to pinky-beiges, you'll see less silver based tones and more sunny golden hues to encapsulate soulful, earthy hues. These tones add a sense of calm and warmth, giving a neutral clean slate to the space. The shades you'll see are very 90's-style browns and neutrals making their way back.
2023 Paint Trend: Bold Shades
You will continue to see bold shades in 2023 for both interior and exterior. Bold shades are great to add a pop to the space or act as an accent wall. These lively tones will range from reds-oranges, green-blues, and colors that have deep jewel tones to add personality and inspire dramatic transformations.
Paint Colors of the Year
Benjamin Moore – Raspberry Blush

Sherwin Williams – Redend Point

Behr – Blank Canvas

HGTV by Sherwin Williams – Darkroom
PPG – Vining Ivy

Valspar – Ivory Brown
Learn more about HGTV's colors of the year here!
As you look for shades to transform your space this year, you might like to refer to these top color trends. But remember, at the end of the day, you should pick a color you love. Just because it's trending doesn't mean you have to pick it. Have fun and happy painting!