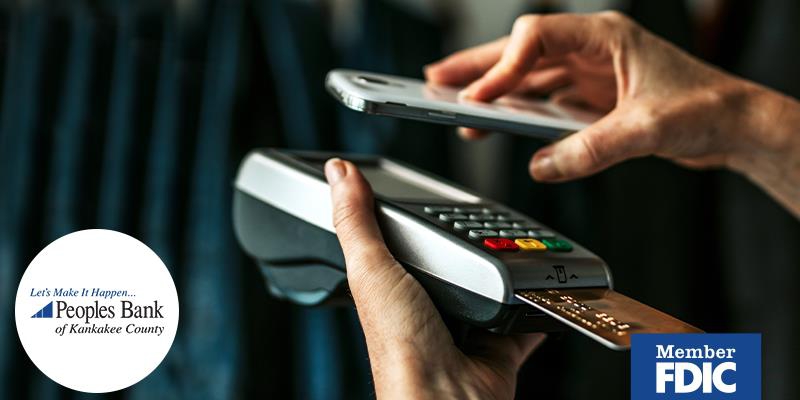 Once upon a time, phones were simply used to call people. Today you can do just about everything using the convenience of your phone. Now, with the help of Peoples Bank, you can pay with it. Have you added your Peoples Bank debit card to your smartphone's mobile wallet?
What is a Mobile Wallet
A mobile wallet is a software application that allows you to hold many of the same things you would keep in a physical wallet. It can hold debit, credit, ID, gift, membership and reward cards. It can also hold coupons, airline and sports tickets, and more. The most popular mobile wallets are Apple Pay®, Google Pay™, and Samsung Pay™. They come pre-installed on your smartphone.
Mobile wallets let consumers make payments using their phone, smart watch, or tablet instead of using a physical card. Simply add your Peoples Bank debit card to your mobile wallet to pay at checkout in stores, online and for in-app purchases. Although not all merchants currently accept payment from a digital wallet, this option continues to become more of a norm every day.
Benefits Of a Mobile Wallet
1. Mobile payment may reduce fraud
The data stored in your wallet is encrypted, meaning your actual card number and information aren't transmitted to merchants when making a payment. This keeps your transactions safe. Your transactions are covered by the same security and privacy protections as your physical cards.
2. Mobile payment is fast
With your mobile wallet, you can quickly pay by holding your phone over the payment terminal and verifying the purchase with your passcode in seconds.
3. Mobile payment is more secure
With a physical wallet, if you lose it, it's gone. You will need to cancel all the cards you had, and your cash is gone for good. On the other hand, your digital wallet is protected with a unique passcode on your device. If a cell phone is lost containing a digital wallet, someone would need to be able to unlock BOTH your phone AND the digital wallet application, both of which are protected, in order to access the information.
4. Mobile wallet trims your wallet contents
A mobile wallet allows you to always have your card on hand for convenient payments and emergencies. Forgot your wallet? No worries!
5. Mobile wallet is convenient
You can use your card anytime, anywhere. You won't have to spend time digging out your card or typing in the numbers to make a purchase. Your mobile wallet has your card numbers stored to make online purchases and in-store payments easy.
Add your debit card to your mobile wallet today! Visit our website for more information, including a mobile wallet tutorial, or to contact us for help. Our dedicated team of banking professionals is always here to serve you.