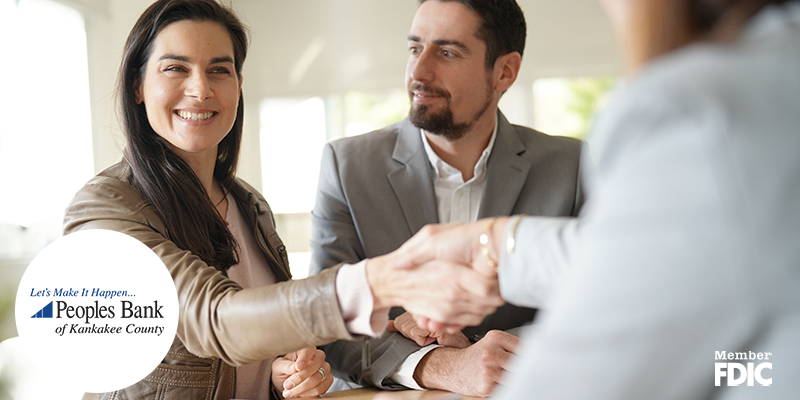 Are you wondering why it makes sense to open a Certificate of Deposit (CD) in today's financial market? Today we are going to explain what a CD is and reasons to invest in one. Since investing is the best way to make your money work for you, consider opening a CD with Peoples Bank today.
1.

Certificate

s

of Deposit

s

Are

FDIC Insured
A Certificate of Deposit is a bank product that provides an interest rate premium in exchange for the customer leaving a lump-sum deposit untouched for a predetermined period. It is backed by the FDIC up to $250,000 per person on the account. This means you don't have to worry about some corporate scandal and competition lowering your principal investment.
2. CDs

Offer

Low Risk

and Have a Guaranteed Rate of Return
Certificates of Deposit are known as low risk, conservative investments in comparison to stocks and bonds. Peoples Bank offers terms ranging from 6 months to 4 years. Although CDs have less opportunity for growth, they offer a non-volatile, guaranteed rate of return. Once that interest rate is locked in for the term, it doesn't change, even if the interest rate environment changes.
3. CDs

Offer

Much

Higher Interest

Yield Than Money Markets
CDs pay a significantly higher interest rate than savings or money market accounts. In effect, they are 5-10X higher than money market interest rates. You can pull your money in and out of your savings account as you please. With a Certificate of Deposit, you're required to leave your deposit untouched for the term of the CD. If you absolutely must withdraw money from the CD, you may do so by paying a penalty fee, but that is not advised.
At Peoples Bank, we have several Certificate of Deposit specials. Currently, we have a 16 Month CD Special with a 1.26% APY* and an 18 Month Flex CD Special with a 1.15% APY*. In addition to our CD specials, you can see a full menu of CD & IRA CD terms that may also be a great fit.
4. Peoples Bank Has a Unique 18 Month Flex CD
One of the things that's nice at Peoples Bank is the 18 Month Flex CD. Like the name says, the Flex CD uniquely offers flexibility. People love the ability to withdraw a partial amount (in increments of $1000) or the entire amount, and if it's past the first 7 days, there is NEVER a penalty. They can withdraw as needed, and again, without penalty. It's a very handy feature. Normally a CD like that pays very low interest, because of the convenience factor. Peoples Bank has kept theirs at a competitive rate, so people and businesses LOVE IT!
5. Accrued

CD

Interest is Accessible
One thing you may not realize is that you can withdraw accrued interest from a CD without penalty once it has been compounded (added to the CD principal). In the event you would like access to the interest earned, it is available.
6. Diversification

is a Benefit
Most investment professionals agree that diversification is the most important component of financial planning. The idea behind diversification is that a variety of investments will yield a higher return and that investors face lower risk by investing in different vehicles. Certificates of Deposit can play a valuable role in everyone's diversified financial plan.
7.CDs

Offer

Peace of Mind
One final benefit of investing in a Certificate of Deposit is peace of mind. CDs offer fixed rates for fixed terms. In a world of unknowns, knowing you cannot lose any of your principal investment or interest earned allows you to sleep comfortably at night. Who doesn't enjoy a restful night's sleep?
Do you have lump sum savings that you don't need immediately? Are you looking for a safe, FDIC insured investment that pays a higher interest yield than money markets? Would you like the flexibility Peoples Bank's 18 Month Flex CD offers? Peoples Bank of Kankakee County is ready to answer your questions and open your Certificate of Deposit today. We look forward to serving your financial needs!
*Annual Percentage Yield (APY) is accurate as of 8/1/2022