Posted On: May 13, 2020 by Peoples Bank of Kankakee County in: Seasonal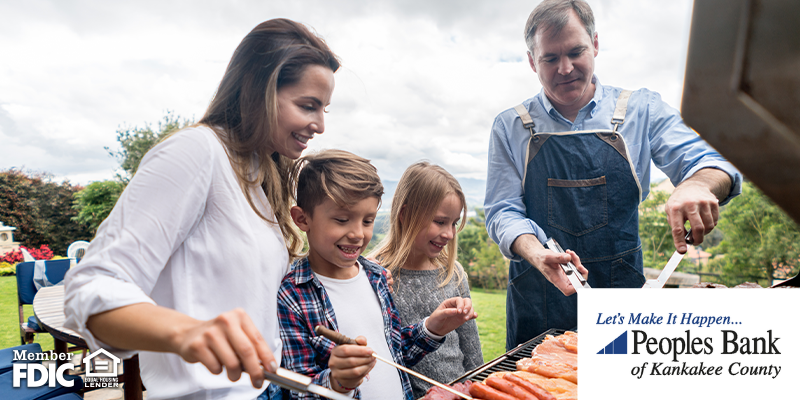 As Memorial Day approaches, we can't help but think of all the possible delicious barbecue meals to make. Make your holiday cookout delightful by serving the tastiest dishes. Let us help you narrow down your options by providing you with these three amazing barbecue recipes!
#1: Slow Cooker Texas Pulled Pork
This pulled pork recipe from allrecipies.com is an all-time family favorite! Start by gathering your ingredients:
- 1 teaspoon of vegetable oil
- 4 lbs. of pork shoulder roast
- 1 cup of your favorite BBQ sauce
- 1/2 cup of apple cider vinegar
- 1/2 cup of chicken broth
- 1/4 cup of light brown sugar
- 1 tbsp. of prepared yellow mustard
- 1 tbsp. of Worcestershire sauce
- 1 tbsp. of chili powder
- 1 extra large onion, chopped
- 2 large cloves of garlic, crushed
- 1 1/2 teaspoons of dried thyme
- 8 hamburger buns
- 2 tablespoons of butter
The first step is to pour the vegetable oil into the bottom of your slow cooker. Place the pork roast inside along with the barbecue sauce, apple cider vinegar and chicken broth. Next, stir in the brown sugar, yellow mustard, Worcestershire sauce, chili powder, onion, garlic and thyme. Cover the roast and cook on high for 5-6 hours, or until the roast shreds easily with a fork. After 5-6 hours, remove your roast from the slow cooker and shred the meat with forks. Put the shredded pork back into the slow cooker and stir together the meat with the juices. Lastly, you can butter the inside of the buns and toast them on a skillet until golden brown. You're ready to spoon the pork onto the buns, serve and enjoy!
#2: Easy Texas BBQ Brisket
If you're looking for a simple yet delicious barbecue meal to get ready the night before your cookout, this brisket recipe from tasteofhome.com is perfect! Start by combining the first seven ingredients in a small bowl:
- 2 tbsp. of packed brown sugar
- 1 tbsp. of salt
- 1 tbsp. of onion powder
- 1 tbsp. of garlic powder
- 1 tbsp. of ground mustard
- 1 tbsp. of smoked paprika
- 1 tbsp. of pepper
Now that those are combined, you'll need:
- 2 fresh beef briskets
- 1 bottle (10 oz.) of Heinz 57 steak sauce
- 1/2 cup of liquid smoke
- 1/4 cup of Worcestershire sauce
With a fork, prick holes into the briskets. Then rub the meat with the seasoning mixture, covering and refrigerating overnight. The next day, preheat your oven to 325 degrees F. Place your briskets in a roasting pan, fat sides up. In a small bowl, combine your steak sauce, liquid smoke and Worcestershire sauce, pouring the mixture over the meat. Cover tightly with foil, baking for 4-5 hours or until tender. Let the brisket sit in the juice for 15 minutes, then slice thinly and serve!
#3: Simple BBQ Ribs
You can't have a barbecue cookout without ribs, right? These ribs from allrecipes.com are country-style, tender and simple. First, grab these ingredients:
- 2 1/2 lbs. of country style pork ribs
- 1 tbsp. of garlic powder
- 1 tsp. of ground black pepper
- 2 tbsp. of salt
- 1 cup of your favorite barbecue sauce
Start by placing the ribs in a large pot and covering them with water. Season with garlic powder, black pepper and salt. Bring the water to a boil and cook the ribs until they're tender. Next, preheat your oven to 325 degrees F. Remove the ribs from the pot and place them in a 9x13 inch baking dish. Now it's time to pour your barbecue sauce over the ribs and cover with aluminum foil, baking in the oven. Let them bake for 1 to 1 1/2 hours, or until the internal temperature of the pork reaches 160 degrees F. Now you're ready to serve these delicious barbecue ribs!
Summer calls for lots of time spent outdoors, and meals like these are perfect for cookouts! We hope you're able to try out these barbecue recipes on Memorial Day or throughout the summer. Happy baking, from your friends at Peoples Bank of Kankakee County!