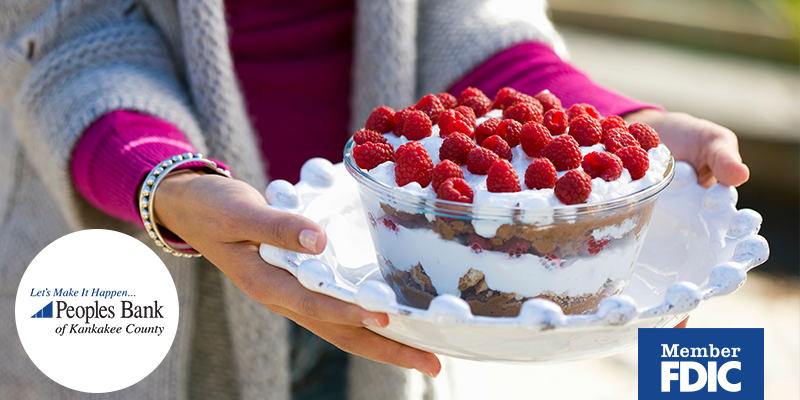 Spring is here! That means chirping birds, blooming flowers, and outdoor gatherings. Spring is the PERFECT time for a light, refreshing trifle. If you are looking for a delicious, sweet treat to impress your guests, this blog is for YOU!
Feeling Fruity
Raspberry Orange Trifle
This orange pound cake trifle is filled with raspberry jam, fresh berries, and has a citrus twist! Check out this recipe by Ina Garten.
Lemon Blueberry Trifle
The classic combo of lemon and blueberry simply cannot be beaten. Give this lemon blueberry trifle recipe a try!
Classic Lemon Trifle
This lemon cake trifle with homemade lemon cream will be the perfect addition to your springtime spread! Get this bright and sunny dessert recipe here.
The Chocoholic
Chocolate Trifle
If you like chocolate, you will LOVE this decadent chocolate trifle. From the Oreo layers to the white cream cheese, this silky chocolate pudding dessert will absolutely spoil your sweet tooth! Get the Chocolate Trifle recipe here.
Thin Mint Trifle
There are very few people who can pass up a Thin Mint ® Girl Scout Cookie! This trifle layers chocolate mint cookies, chocolate cake batter, whipped cream, and vanilla pudding. This minty dessert will be a crowd favorite! Get the recipe here.
Very Vanilla
Red, White, and Blue Trifle
This festive trifle is both pretty to look at and delicious. Filled with a vanilla pound cake and fresh berries, this one is perfect for a festive summertime celebration! Check out this gorgeous recipe here.
Banana Split Trifle
An already fabulous, sweet treat made into a trifle? Yes, please! This dessert is made with white cake, vanilla pudding, bananas, strawberries, and pineapple. Add the whipped cream, nuts and cherry, or leave it off. This trifle's customization is up to you. Get this recipe here.
Enjoy the upcoming warm weather and take along one of these delicious trifles on your next springtime adventure!