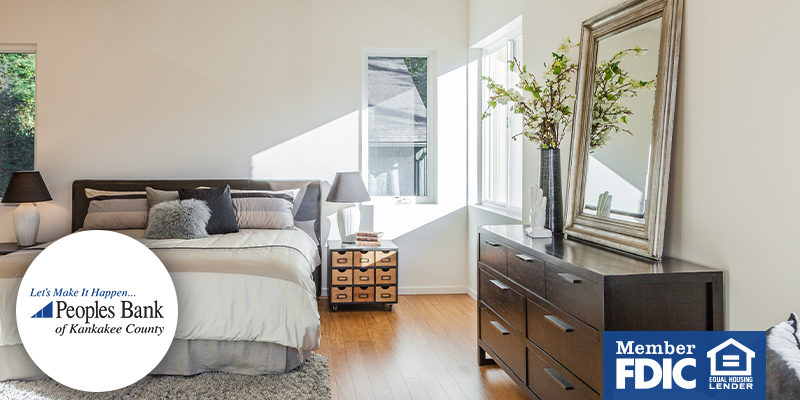 Staging your home can be a hectic task on your plate. Here are a few tips on how you can stage your home easily and on a budget.
Make a Good First Impression
Good curb appeal will stand out to your buyers immediately. Attractive landscaping and outside projects can take time. If you're in a hurry to get your exterior looking its best, the first thing to focus on would be removing dirt from the siding, roof, and gutters. A good pressure washer can clean the dirt right off. While you're at it, you can pressure wash your porch and walkways. If you have outdoor furniture, sometimes a good pressure washer can make them look refreshed and new as well.
Another curb appeal tip is to have clean lawn edges. Edging around any tree or flowerbed will improve their appearance. Once your edging is sharply complete, consider laying some additional mulch or rock to give it a fuller look. Be sure to fill in empty planting beds or pots with colorful flowers or greenery.
Cook Up a Good-Looking Kitchen
The key to quickly staging your home on a budget is to limit your projects. Let's talk "clutter." Clutter takes up space and space is what sells. A kitchen can look much more attractive if the small appliances are put away and anything hanging on the fridge is removed. The more you can get off the counter, the better. You will want to clean your home like you have never cleaned before. Clean the places you have avoided like inside the refrigerator, under the sink or those dusty window blinds. A squeaky-clean home suggests to the buyer that you took excellent care of the property, a notion that goes beyond the kitchen counter to the entire house. Changing the hardware on your cabinets can also improve presentation. When staging your kitchen, consider it a refreshed facelift, not a completely new look.
Functional Furniture Placement
Furniture placement is a huge factor in how buyers view the home and the overall space. You may have to remove some furniture to give a more open, walkable space. Get rid of any damaged or mismatched pieces. Minimal accessories on your coffee table can give a clean, sleek look. A few throw pillows are always an easy addition to spruce up what you already have, just be sure they flow with the furniture and match. Adding a lamp in a darker corner to add brightness can help add to the space as well. If you have wall hangings, make sure they are appropriately sized and they are straight.
Accessorize With Accents
When it comes to accessorizing your home, the key takeaways are to go neutral, de-personalize, and declutter. Potential buyers want to envision themselves in your home, so depersonalizing your décor can best allow them to do that. This may entail removing family photos, religious items, awards, or personal items like toothbrushes. As for replacing personal items, add some neutral pots with greenery, books or even some inexpensive accents such as candles, bookends, or decorative beads. The more minimal your counters, shelves and tables can be, the more refreshed they will look to your buyer. The rule of thumb is to decorate in threes rather than in a pair to look relaxed and asymmetrical.
Sell With the Smell
Everyone wants to walk into a good-smelling house. Oftentimes aromas can affect the way your buyers feel and think as they walk through your home. It can be hard for us to notice what may come off as an odor in our house to someone else. Remove the dog bed or kitty litter well in advance to diminish the smell of a pet. Put your overflow of shoes away. Add a small plug-in air freshener to give off a pleasant, subtle scent. Be sure to always empty the trash bin before showings so buyers are not hit with any offensive odors. Some sellers even go so far as making cookies before a showing for an aroma of freshly baked cookies. Throughout the rest of your house, you can place a few healthy, well placed plants and flowers to add freshness and life to the space.
Some Extras to Add
1. Home Office
Adding an office is always smart, especially in the world we live in with a lot of people having the option to work remotely. If you have the furniture and could set up a room for an office, it would be a great way to show diversity amongst rooms. If you do not have a full room, renovate a nook to work as a functional office.
2. Organizational Units for Closets
Another extra to add would be some budget-friendly storage options to tidy up closets and accentuate the storage you have in a more luxurious way. We all desire storage, so the key is to show it off.
3. Plush Bathrooms
Consider adding a clean shower curtain and plush towels and rugs to your bathrooms to create a spa feeling. While you are touching up your bathrooms, be sure to address any hard water stains and dirty grout.
4. Luxe Bedrooms
Lastly, make your bedrooms feel luxurious with plush pillows and fluffy comforters. Everyone wants a comfortable bedroom they can unwind in. Give this feeling to potential buyers by tidying up yours for a simple, yet luxe look so they can envision making it their own.
What You NEED to Remove
1. Remove Your Pet
Always remove any pets before a showing. We like to think we all have a sweet spot for a furry friend, but when showing your home, buyers do not want to be greeted by your pet. Remember that buyers may be allergic, not like pets, or find their odor to be a turn off.
2. Remove Pet Items
As mentioned above, removing your pets would also include their extra necessities such as a crate, food bowls and toys. You want it to look like they do not reside with you. The last thing you want your potential buyers to notice is dog hair all over and a pet odor in their potentially new home.
3. Remove Clutter and Personal Items
Staging your home can be the extra push you need to get your home sold. Cleaning up the clutter and the personal items can allow potential buyers to envision the space as their own. Sometimes you can even work a deal with a buyer and sell some of your existing furniture, solely because it fits the space so perfectly. The great part about staging your home is that it forces you to start packing up and declutter your things before the big move.
Now that you've read all about the tips to stage your home, start decluttering and depersonalizing today to sell with confidence!