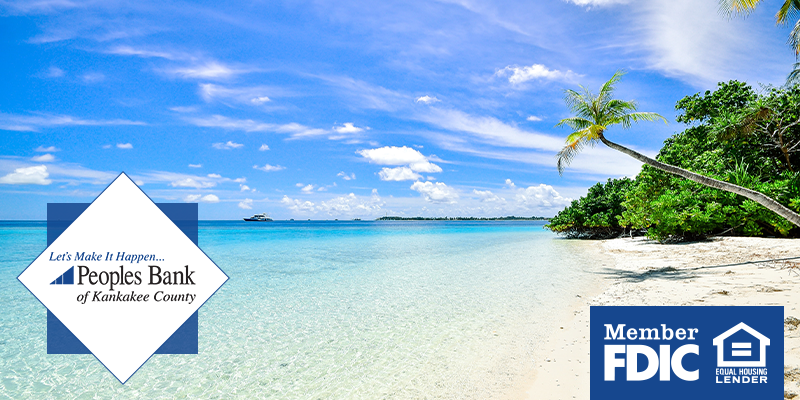 It's the season for vacations and we actually get to leave our homes! This year, we can do more than change our Zoom background to a sunset on the beach, and Peoples Bank of Kankakee is here to help you and your family make memories to last a lifetime. Before you hop on a plane or pack the car, learn about different digital banking services that will make your vacation a breeze.
There's no need to stress about paying your bills on vacation. Rather than trying to remember to send checks ahead of time or log into different accounts while you're away, just set up automatic payments through Online Bill Pay. Once you have that set up, you don't have to worry about monthly or recurring payments, even after vacation!
Signing up for eStatements is one less piece of mail you need to worry about while you're away. Each month you get an email letting you know that your eStatement is ready to view. If you want to ignore the email until you get back from vacation, we don't blame you! You can view eStatements for up to 18 months.
Mobile Banking lets you access your account anywhere from your bank's mobile device app. This is always helpful when you want to stick to a budget while on vacation. Simply log into the app on your mobile device to view account balances, track your transactions, transfer funds and more!
Text banking allows you to get information about your bank account sent to your phone, anytime you want. Check out the texting shortcuts to receive your banking information here.
Perhaps the online service you'll use the most on vacation is your Mobile Wallet. This lets you carry a digital version of your debit card on your phone! No need to worry about taking your card or cash to the pool, just take your smartphone!
From all of us at Kankakee, we hope you have an amazing summer! If you need help managing finances or saving for an upcoming vacation, reach out to our experts for advice. We're here to support you and your family toward your goals, even the fun ones!