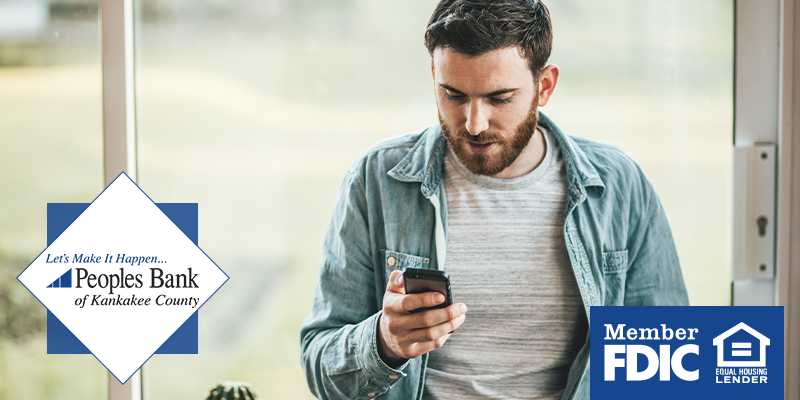 A growing trend for today's casual marketplace, Peer-to-Peer(P2P) Payment Apps make sending funds from one person to another quick and easy. However, there are pros and cons to consider and potential fees that many are unaware of. Your trusted experts at Peoples Bank of Kankakee County are here to help you choose from these three safe options in P2P apps.
Zelle
This P2P app allows users to send money to other Zelle users by connecting via their registered phone number or email address. The advantage of using Zelle is that it allows its users to transfer money directly to and from their bank account, avoiding the step of moving money out of the app like many other P2P apps require. A few drawbacks are that you cannot connect a credit card to this app, you will need a mobile device to connect to use the app and you cannot transfer any money internationally.
View Zelle in the iOS App Store
Venmo
While Venmo is owned by PayPal, it has a few features that differ from the PayPal app. This app offers the ability to connect to a debit card that operates on funds in the user's Venmo account. It also has over 40 million users which means that it would be most generally accepted by any peer you are trying to transfer funds with. The main drawback with Venmo is that there is a 3% fee to send money via credit card AND a 1% fee with a minimum of 25 cents/max $10 to transfer your Venmo cash instantly into your back account. To avoid this transfer fee, you must wait up to three business days to receive funds.
View Venmo in the iOS App Store
PayPal
PayPal has been around the longest of these three P2P apps and is widely used for online purchases. Because it is often integrated with online retailer checkout, the transfer limits are as high as $60,000 and you can even use an individual credit line. The drawback is that there is a 2.9% transaction fee and PayPal Credit's interest rates are as high as most credit cards. In addition, free transfers can take up to five business days, and PayPal will charge you 1% to transfer immediately.
View PayPal in the iOS App Store
View PayPal in the Google Play
We hope these brief overviews have helped alleviate any anxiety you had with using these convenient and popular apps. If you are looking for more guidance on which P2P app best suits your needs, the experts at Peoples Bank of Kankakee County are here to help.