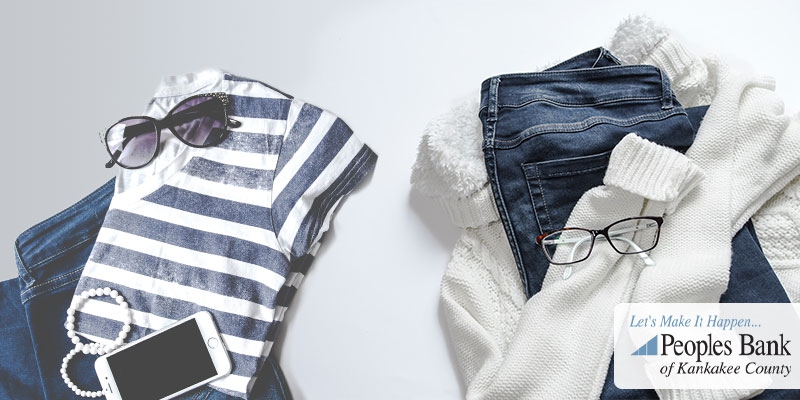 Pumpkin spice, sweaters and coffee come to mind when thinking about fall. But what about all your cute summer clothes? You're not ready to put those away! Peoples Bank of Kankakee has come up with a few simple ways you can transition your summer wardrobe to fall.
Wear Tights
Tights are a perfect way to keep those summer dresses in your closet a little bit longer. You're able to keep warm in the cool weather, while still looking adorable! This is a super affordable option for sprucing up that dress you've been wearing all summer, without having to buy another pair of expensive jeans.
Buy a Jacket
Investing in a darling jacket you can put over all your sleeveless or short sleeve shirts will allow you to have more clothing options in the fall. Make your outfit more fall-appropriate by getting a military-style cargo, leather or sweater jacket – or try a blazer!
Try Deeper Colors
You'll no longer want to be wearing all the bright colors you have been. Adding deeper colors to contrast your outfit is the perfect way to transition to fall. Add that plum cardigan to your lavender dress to bring it down a notch or try adding an army green sweater into the mix!
Put on Your Boots
Boots are the fall shoe, so whether they are short or tall – put them on! You can easily wear over-the-knee boots with your favorite summer skirt or throw on a cardigan and jeans, then add your pair of short boots to the mix. Even peep-toe booties give a dressy, appealing look, while covering more of your foot and keeping it warm.
Layer Up
Wearing a cardigan with a scarf over fitted jeans gives lots of detail to your outfit. Since you have lighter pieces from your summer wardrobe, layering is a great option. Throw a jacket over your simple tee and add some jewelry or hat into the mix.
We hope these simple tips help you prepare your wardrobe for fall – without getting rid of all your summer clothes just yet! Enjoy your pumpkin spice candles and lattes, because before you know it, winter will be here.