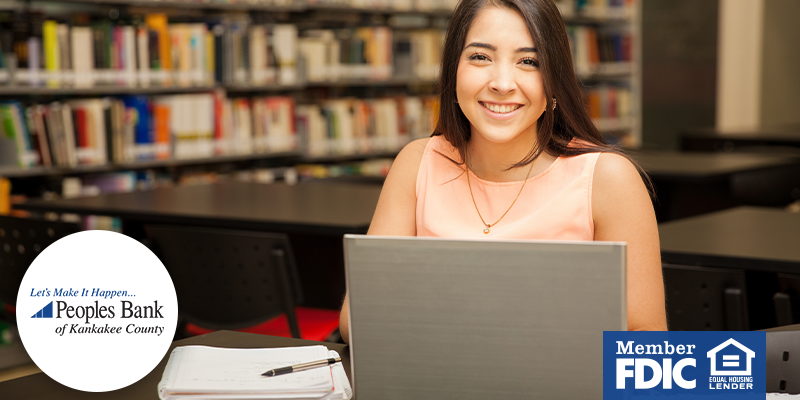 Are you college bound and wondering how you will manage your finances when you are out on your own? This blog is for you! Peoples Bank has made opening and managing your checking account easy.
Opening a checking account can easily be done online or in person at any of our 3 convenient locations: Bourbonnais, Kankakee or Manteno. As a student, you will want to consider either Simplicity Checking and Rewards Checking. There are benefits to both types of accounts and you can decide which one is right for you by using our comparison chart located here. If you have questions, feel free to contact Peoples Bank or come see us in person today!
All of

our checking accounts come with:
A free ATM/debit card

Access to online banking, bill pay, our mobile banking app, and Zelle®

Free text alerts (message and data rates may apply)
A debit card makes it easy to access your money. It is safer than cash or checks and so handy. You have 24/7 access to cash through ATMS everywhere, and you can make point-of-sale purchases directly from your checking account anywhere MasterCard® is accepted.
Concerned about safety? You can also load your debit card into your mobile wallet with Apple Pay, Google Pay, or Samsung Pay. This gives you the safety, speed, and convenience of paying with your phone or smart watch. What's attractive about mobile wallet is that your debit card number is never revealed to the merchant, keeping your transactions secure. Who doesn't want an extra layer of protection to prevent fraud during point-of-sale transactions? You can easily keep an eye on your transactions online or through the Peoples Bank mobile app as well.
How to Manage Your Checking Account
Once you've opened your checking account, the most critical step in managing it is keeping track of your account balance. This ensures that you don't spend more money than you have. Doing so can result in overdraft fees, and nobody likes those! Be sure you understand if ATM fees can apply to your account, and sign up for paperless eStatements. EStatements are fast, free and secure. You'll receive an email to let you know when your statement is ready to view.
You will also want to enroll in online banking and download the Peoples Bank mobile app. Online banking gives you 24/7 access to your accounts. It is a simple and convenient way to keep track of your account, make payments, and move money. Here are some of the time saving services you can enjoy with online banking:
Check your account and loan balance (if applicable)

Transfer funds between accounts & make your Peoples Bank loan payment

TransferNow External Transfer – allows you to access your accounts at other financial institutions

BillPay – makes it easy to pay your bills online
Zelle® – the safe and easy way to send money to your friends and family

Alerts – get notified each time a debit or credit posts to your account

Reorder Checks 

Mobile Banking – bank from your phone with our mobile app

Export account information - easily to your financial management software
Finally, you may also want to consider automating deposits and payments. Direct deposit can automatically deposit your student employment paycheck into your checking account for you. This saves you time and energy obtaining a paper check and depositing it yourself. Automatic bill payments make managing your bank account and budget a lot easier.
So there you have it – all the valuable suggestions for starting and managing a checking account in college. As questions come up, Peoples Bank is here to help! Call, stop by, or email us a message. Visit our website to open an account today. We want to make managing your college finances as easy as possible.