Posted On: December 9, 2021 by Peoples Bank of Kankakee County in: Mortgages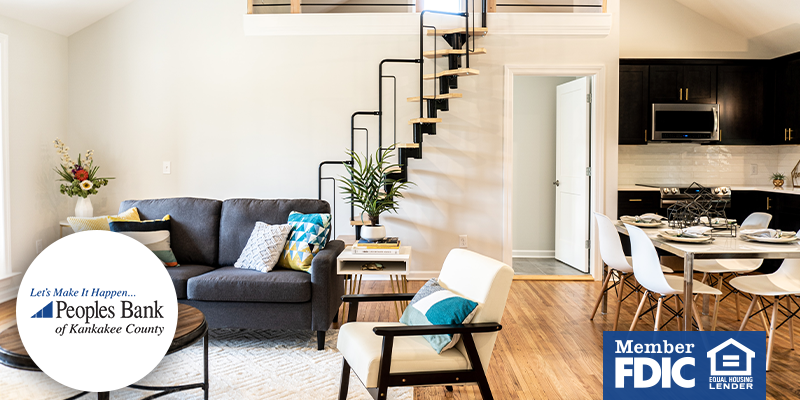 If you're preparing to sell your home, you're in the right place. We're here to provide you with 8 helpful house staging tips so you can make the most of your space and grab the attention of prospective buyers.
1. Focus on the curb appeal.
Curb appeal is huge when it comes to first impressions. Some good and relatively cheap ways to make the outside of your home more attractive are to repaint the front door, lay fresh mulch, add more greenery, get a new welcome mat or make your porch presentable by adding some outdoor furniture.
2. Make sure your house smells its best.
You might not have considered the importance of how your house smells, but it can have an immediate effect on the way the buyers feel and think. Making sure your house is full of pleasant aromas gives a good first impression. This can be done by using a diffuser, candles, fragrant flowers, plug-in air fresheners and more.
3. Don't overdo the furniture.
Get rid of clutter to make your rooms look bigger and more spacious. When potential buyers are walking around the house, they'll want plenty of space to check it out without running into things, so avoid crowding the space. Next, rethink the placement of your furniture. All spaces are different so there isn't a universal rule but be sure to place the furniture in a way that creates good traffic flow but still makes the room feel cozy.
4. Add some upgrades to your kitchen.
The kitchen is usually the make-or-break space for buyers, so if you're going to update anything in your home, the kitchen is the best place to start. Clear clutter off the countertops, consider updating your backsplash, repaint the cabinets or replace the sink. All these things can make a big positive difference to the overall look of your kitchen.
5. Un-personalize your home.
Now's a good time to remove those personal items like family photos, collectibles or your kid's artwork. Replace them with generic decorations that will allow potential buyers to picture themselves in your home.
6. Lighten and brighten each room.
Now is a good time to improve the lighting in your home. You want your space to look welcoming, so don't just depend on one lightbulb to light the entire room. Add accent lamps and replace the bulbs for a brighter, warmer feel.
7. Clean the bathroom, then clean it again.
The best way to turn potential buyers away is to have an unappealing bathroom. This means you should deep clean it, de-clutter the counterspace, display new towels, add a candle and some cute counter décor and you're good to go.
If your next step is to apply for a home loan, our mortgage experts are here to help. Contact us to learn more and good luck staging and selling your home!