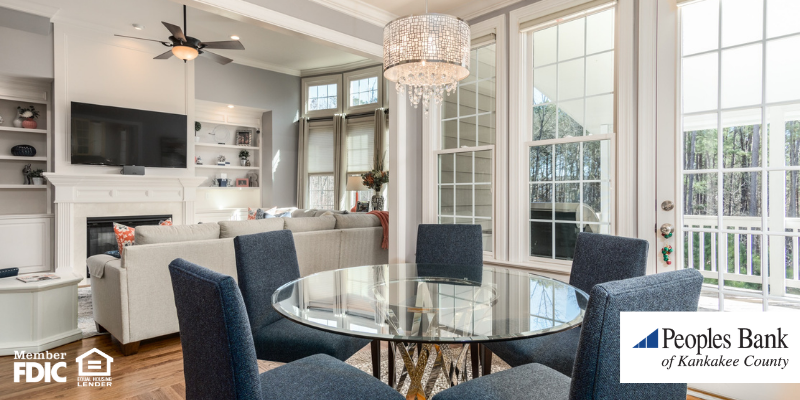 If you have a mortgage, you've committed to making a house into a home and settling in for at least the next few years – if not decades. You're going to live a lot of life in that home! Did you know that different life events can affect your home loan? Peoples Bank of Kankakee County is here to help you understand how life events can affect your mortgage.
Getting Married
If you're getting married, we suggest you sit down with your future spouse to go over finances and assets. It's important to be honest about how much you earn and how much debt you have, as these two things play a huge part in how much home you can afford. Purchasing a home with a partner is a fun and exciting milestone!
If you already own a home and your spouse moves in with you, you can choose to add him or her as a co-borrower on your mortgage or simply add their name to the deed. Because this is a big decision that can have a lot of variables, we suggest consulting an attorney before visiting your lender.
Having a Child
Bringing a child into the family is a major financial undertaking. We love them, but they're expensive! If you're thinking of purchasing a home, think about current or potential costs for having a child. In Illinois, the average cost of childcare at a daycare center was $13,762 per year in 2019, which is the price of a second mortgage for many families. This doesn't include the cost of setting up a nursery, clothes and food that are necessary for having a child.
Don't get discouraged, though! Families have children and own homes all the time and you can live that dream, too. One financial strategy is to stagger a few years in between kids, if at all possible. This allows you to pay for childcare for one child at a time before they go to school. If you have friends or family with children, ask if they would want to do a hand-me-down or clothing swap system.
Lastly, it could be worth it to refinance your home loan. As we mentioned, having children is a major expense, so you may want to get advice on refinancing your home loan to lower the interest rate. Even a small decrease can save you a lot of money over the long run!
Getting Divorced
Going through a divorce is typically burdensome when it comes to working through how to handle financial assets, including your home. If you are currently separated or going through a divorce, it's necessary to sit down and go over your individual finances with an expert. This is especially important if you previously had joint finances and home ownership with a spouse, because you need to know what you can afford without that additional income.
Two of the most common options include selling your current home to downsize or using child support to pay for the current home if you choose to stay. These options need to be worked out with your lawyer or mediator and both parties must agree to any arrangement you choose.
Death of a Partner
If you experience the tragedy of losing a spouse, finances are likely the last thing you want to worry about, but probably the most immediate issue you encounter. This is also a necessary time to sit down with an expert to go over your individual finances, as well as how to handle any financial benefits from a life insurance policy. You will need to decide if you would like life insurance payments to contribute to your mortgage, or if it makes more sense to downsize.
Mortgage insurance is also something to consider to help with the financial burden of a mortgage after losing a loved one. The right mortgage insurance will help pay for your home loan in the event you lose income due to a death in your family. It's a good idea to obtain mortgage insurance as you are buying your home or shortly after, if your lender doesn't require it already, as it won't be helpful if you obtain it after your spouse passes.
If you're anticipating a major life event, or would like to be prepared when it happens, feel free to talk to our friendly experts at People's Bank of Kankakee. Or if you're thinking of purchasing a home, feel free to check out your #1 Mortgage Lender in Kankakee County*! We're here to help you through life's changes with expert advice and compassion.
*Based on Standard Title Guaranty Company data for mortgages recorded in Kankakee Count January – December 2020.