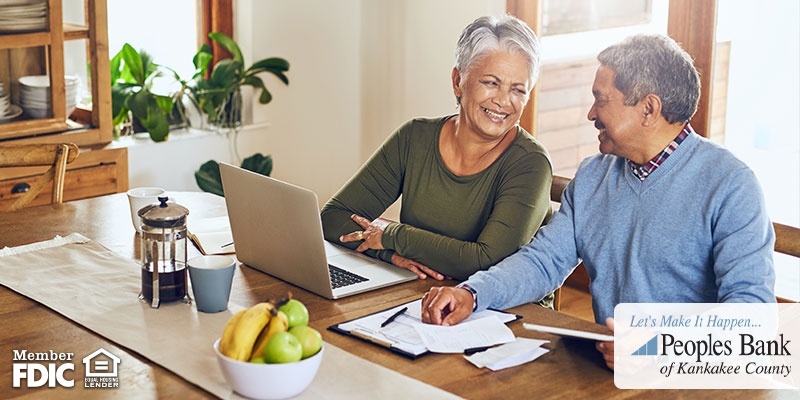 We've probably all heard about a home equity line of credit. But what is it really and how can we use it? In today's blog, Peoples Bank of Kankakee will talk you through what a HELOC is, what it can be used for and a few other top pieces of information you'll want to know!
What is it?
A home equity line of credit, or HELOC, is a loan in which the lender agrees to lend a maximum amount within an agreed period. The collateral is the borrower's equity in his/her house. As you repay your outstanding balance, the amount of available credit is replenished – much like a credit card. This means you can borrow against it again if you need to. They are the perfect solution when you need some cash.
What can I do with it?
The funds can be used for so many different reasons like consolidating holiday debt, a home remodel project, college tuition, new vehicle and so on! It's so handy to have access to those funds, whenever YOU need them! We'd be happy to answer any questions you may have – just reach out to us!
How can I qualify?
You need to make sure that the amount you owe on your home is less than the value of your home. You can typically borrow up to around 75% of the value of your home minus the amount you owe – but this can vary based on different factors. Also, a lender generally looks at your credit score and history, employment history, monthly income and monthly debts - just like when you first got your mortgage.
A HELOC is a great alternative for so many reasons. For one thing, it simply allows you to use the existing equity in your home to establish a line of credit. HELOC advantages include:
Draw on the line of credit when you need it
Repay what you use
Interest may be tax deductible (consult your tax advisor)
Draw funds from your HELOC simply by using a check
If this is something you are interested in, please contact us today! Or, go to our site and click "Apply Online Now" below the HELOC section to start your application!