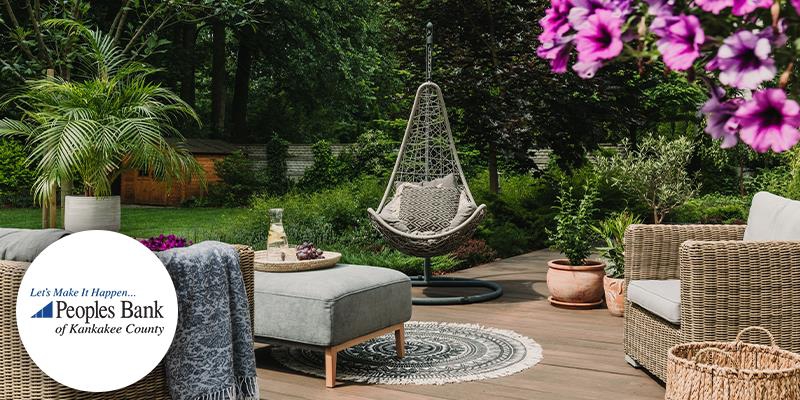 Summer is right around the corner. Hooray! That means it is time to get your backyard in tip-top shape for hosting family and friends. Don't panic! We've got helpful tips to help you clean up your lawn and quickly elevate your space.
Luxe Greenery
The first thing guests notice about your backyard is the grass. If you address it now, it can look green and lush by summertime. Improve your lawn by properly fertilizing and establishing a mowing routine.
Some common lawn problems and solutions include:
Problem: Dog Damage
Solution: Train your pet to use the side of your yard rather than the prime area of your backyard. Soak the damaged spot with a hose to rejuvenate the grass.
Problem: Fungus Disease
Solution: Adjust your watering and fertilization schedule. Get help properly identifying the disease from a local nursery expert.
Problem: Dry Brown Spots
Solution: Check the operation of your sprinklers to make sure your lawn is being evenly watered. Annual aeration is often recommended.
Spring Clean the Basics
Now is the time to pick up the dried leaves and branches in your yard. This will help you a see what is alive and budding and what needs replacement. Next, sweep your patio and walkway surfaces to remove any winter salt and give your hardscape a clean look.
One common problem can be moss and mildew stains. To remove these stains, try a mixture of white vinegar and Borax dissolved in a cup of warm water. You can also pressure wash the area to sometimes make things look nearly new.
Light It Up
Exterior lighting is an easy way to elevate your space, set a relaxing mood, and increase safety. Brighten up pathways with outdoor solar lights or string lights. Some other lighting ideas to consider include lanterns, torches, and bug repelling candles.
Deck Out Your Space
Decks can take a beating in winter weather. Inspect wood decks for decay and loose railings. If your deck isn't stained, give it a good scrub. You can use a combination of household items such as laundry detergent, bleach, and water. Next, rinse the deck and sand anything that needs to be smoothed. You can tell whether your deck stain is still protecting the wood if it repels water. If it doesn't, it's time to stain again. If that is the case, below are some staining tips and tricks to follow:
How to Restore a Weathered Deck: https://www.thisoldhouse.com/decking/21164885/how-to-restore-a-weathered-deck
5 Quick Tips for Staining a Deck: https://www.consumerreports.org/wood-stains/expert-tips-for-staining-a-deck-a6116790416/
Maximize Comfort
Finally, and probably the most fun tip, is adding furniture. This "fluff" makes your backyard cozy and functional. Here's some outdoor furniture options to consider:
Dining table and chairs

Picnic table

Couch, chair, or rocker
Bench

Rolling cooler

Outdoor bar cart

Outdoor fridge

Outdoor pizza oven

Grill

Firepit

Canopy

Hot tub

Volleyball and badminton net
Summer is a fun time to enjoy your backyard space with family and friends. We hope these tips help you get your backyard prepped for building wonderful memories all summer long.