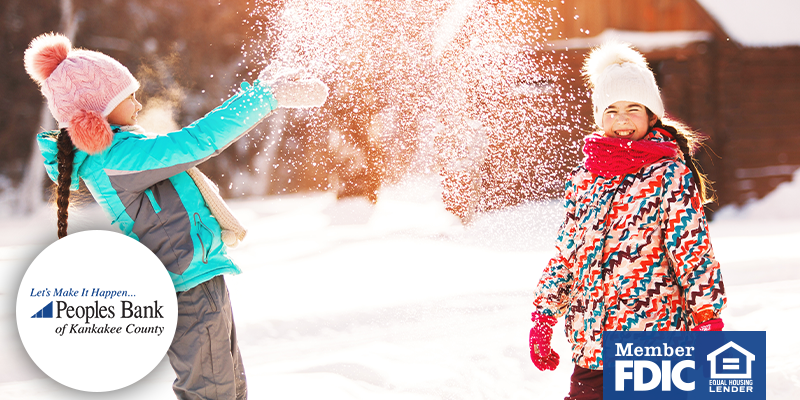 The snow is falling! Now that we have been experiencing our winter wonderland time of year, Peoples Bank of Kankakee County wants to share some of our favorite winter activities for kids.
Enjoy the Snow
Obviously, the easiest activity during the next few months is playing in the snow. That could mean building a snowman or fort, sledding, snowboarding and so on. You can also give them some food coloring to dye the snow if they are old enough not to cover themselves with it.
Go Ice Skating
Get in the car with family and friends and head to some nearby ice arenas for a fun-filled afternoon. This is a great time of year to learn to ice skate, or polish up your gliding techniques.
Make Snow Ice Cream
This magical mixture contains snow, milk, sugar, vanilla and sprinkles. Mix it all together for a sweet treat. Your kids will love it!
Create a Birdfeeder
For your craft day, set up the materials needed for a fun pinecone bird feeder. The kids can make lots of different versions. All you need is twine, pinecones, peanut butter and different types of seed.
Have a Scavenger Hunt
Make a list of items your kids need to go find outdoors. This can include animal tracks, feathers, pinecones, a frozen puddle and so on!
Get Crafty
There are hundreds of craft ideas for kids you can find online. Make paper snowflakes, draw in shaving cream on the kitchen counter, playdough art, marshmallow or cotton ball snowman creations and the list goes on.
Build a Cardboard House
There's plenty of cardboard boxes leftover from the holidays. Help your kids build a home out of them! You can cut out windows and doors as well as tape or hot glue different sections together.
Start Reading
Create a reading list for your child to stick to on the days it's too cold to go outside. They can win a prize at the end of each week if they meet their goal you set.
Host Winter Olympics
Another great outdoor activity can be the Olympics! Create a list of activities the children need to execute outdoors and/or indoors. Then they can all win a treat at the end such as cookies or hot chocolate.
We hope you love these activities as much as we do! Pick your favorites and give your kids something fun to do all winter long.