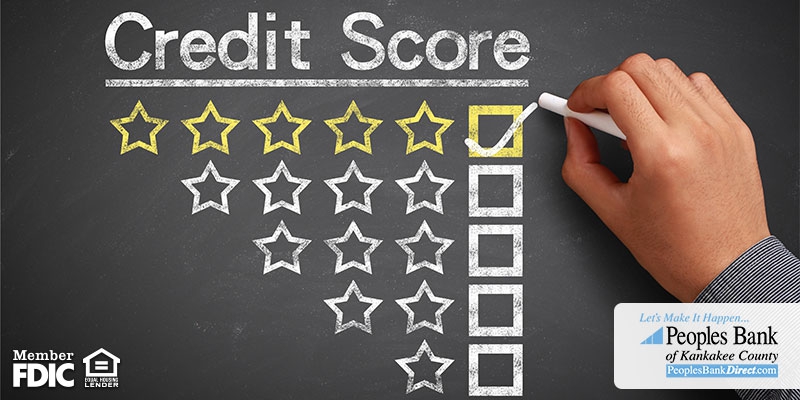 Raising your credit score can seem like a daunting task, or you may not really care what your score is. However, a credit score affects more than you may realize, which is why we find it important to share our knowledge. Develop consistently strong credit habits with these secret keys of advice from Peoples Bank of Kankakee.

1. Show you can handle all types of debt.

Debt comes in all different forms, from car loans and mortgages to credit card bills. Instead of paying for an item in full, consider putting that purchase on your credit card and paying in increments. When it's time to get that new car you've been eyeing, add those payments to your list of different types of debt. Each time you create a new loan and pay off your purchases, you'll see a bump in your score. Be wary of getting too big of a loan or making multiple purchases on your card – be realistic on what payments you can make each month to avoid accumulating too much debt.

2. Make payments on time.

If you decide to open a new account to show your good money habits, be sure to create a schedule for yourself. Don't forget a payment, even if it just happens here and there. Every time you don't pay on time, you're instantly hurting your credit score.

3. Utilize your credit cards.

Keep in mind that some of your credit is based on how long you've had a credit card. If you finally pay off that debt on your oldest card and decide to close it so you don't spend anymore, this could actually hurt your credit. Once you pay off your debt, keep your card activated – this will allow your credit to continue to grow! We offer credit and debit cards that can help you work on bettering your credit.

4. Pay off the lowest-balance card first.

If you're dealing with a lot of debt and feel overwhelmed, come up with a system to help lessen the stress. Find out what card you owe the least on and work to pay off that first, while making your minimum payments on all other cards. While snowballing your money and paying off the highest amount of debt first has been recommended, it may be wise to flip that idea around. You'll need the boost of energy you get from paying the lowest amount of debt off to keep on track. Knocking your debt out this way won't hurt you, as long as you continue making your minimum payments.

5. Ask for a credit limit increase.

If you regularly make payments on your card by following rule number two, feel free to ask the credit card company for a credit limit increase. By getting an increased limit and not spending more than you usually do on your card each month, this translates into a better credit score.
We hope you put these simple tips to good use. As your credit score continues to climb over time, you'll be able to apply for larger loans. Working on strengthening your credit score will lead to other good financial habits. For more advice, visit with our loan officers or visit https://www.peoplesbankdirect.com/.