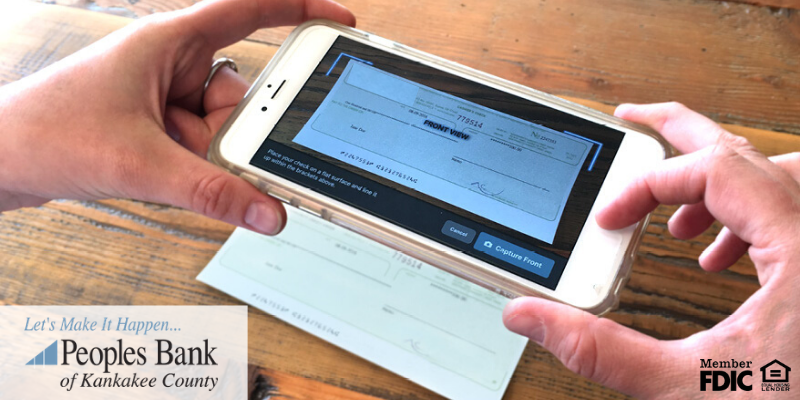 With today's rapidly growing technology, there's no need to take time out of your busy day and drive to the bank. With your Peoples Bank Mobile Banking App, the power to deposit checks is right in the palm of your hand. Why exactly should you take advantage of this opportunity? We're here to tell you about the many benefits of mobile deposit. First, let's look at how simple this process really is.
How Does it Work?
Endorse the check: Include "For Mobile Deposit Only" along with your signature and the date.
Log in on the Peoples Bank Mobile Banking App.
Tap "deposit" then "deposit a check".
Choose the account and enter the deposit amount.
Take a picture of the front and back of the endorsed check.
Tap "make deposit".
That's all! Pretty convenient, right?
What Are the Benefits?
You'll save yourself some time and gas money. Say goodbye to those inconvenient trips to the bank. With mobile deposit, you can deposit your checks without even stepping foot in your vehicle.
Avoid working around bank hours. We understand it can be difficult to make it to the bank before it closes. Instead of scheduling your day around a simple deposit, let our app take care of it.
Don't worry about location. Our bank location can't travel around with you, but our app can. No matter where you are, as long as you have your smartphone, the app, and (of course) internet connection, you can deposit a check. Whether you're on an island vacation or simply don't want to leave your couch, we've got you covered.
Our app is cost-free. Depositing your check doesn't require payments or fees of any kind by us. Enjoy the mobile app and mobile deposit! Just make sure you know your mobile carrier's data rates if you don't have an unlimited plan.
Mobile deposits are secure. The pictures of your checks are not stored on your phone – they're sent directly to the bank. Using mobile deposit is completely secure, so no worries.
If you're curious about our Peoples Bank Mobile Banking App, try it for yourself. Fill out this short form to enroll in mobile deposit and reap those great benefits as soon as possible!