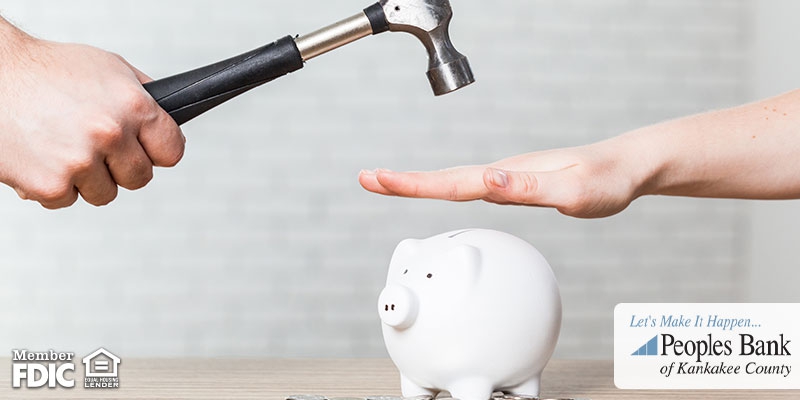 Too many Americans have poor money habits. Do you resonate with this in the way you spend and think about money? Perhaps you were never taught financial literacy in school like many others. However, there's no time better than the present to start learning and why not learn it from the experts at Peoples Bank of Kankakee? These are tried and true ways to say goodbye to bad money habits.
Track Your Spending
It's easy to overspend if we don't really know that we are overspending. If you don't take a close look at what's coming out of your bank account on a recurring basis, you may be even more hesitant to purchase unnecessarily. Set a day of the week to review your purchases. A good day might be a Sunday so that you can review what you spent the week prior and take note of how you can improve. Ignorance does not equal bliss when it comes to finances.
Choose Growth Over Convenience
So many of us love the convenience of fast food or the ability to have nearly anything you want delivered to your front door in a matter of days. This has the potential to create some negative financial consequences. We challenge you to choose to grow your finances over convenience. Too often, we rationalize that the convenience is worth paying a higher dollar amount. We can promise you that it's not.
Stock Up On Essentials
Your house is likely always in need of toilet paper, dish soap, laundry detergent and perhaps a few other items. You know these are items that your household needs to function, so why is it that so many of us wait until we are completely out to buy more? If you keep an eye out for sales, you can stock up on these items and not be at the mercy of whatever the prices are when you need to purchase the items again.
Become an Expert in the Kitchen
Not knowing how to cook is too much of a poor excuse when it comes to saving money. You can learn how to be a decent cook in the kitchen by watching online videos like Rachel Cruze.
Be a Problem Solver
While some household fixes are too serious to try on your own, the next time something breaks, try to fix it yourself after doing your research. You'd be surprised at how much this can save you.
Think Critically
Ditch those money habits by thinking smarter, not harder. Keep an eye out for coupons. Realize that just because something is advertised as a sale doesn't necessarily mean that it is. Ask why something is a certain price before buying and if there are other alternatives.
You can be on your way to better habits by taking even one of these steps into your life. We'd be happy to help you set up an online banking account, so you can have even more control of your spending habits.