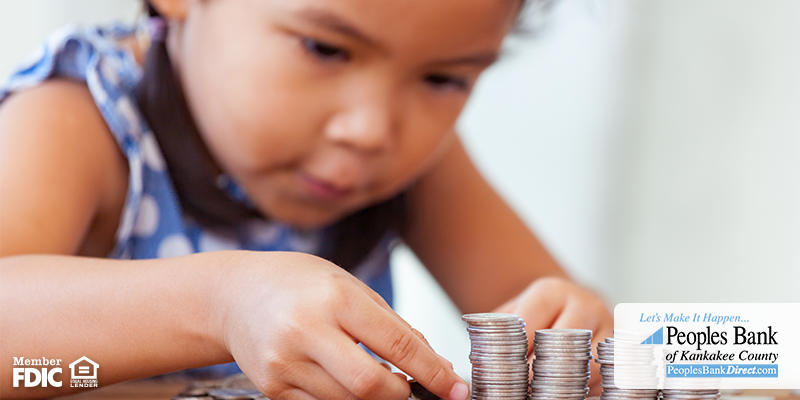 Is four years old too early to be learning money management? We don't believe so! There are many American adults who still struggle with understanding their own finances and keeping a budget. By starting their education early on, you will build their confidence and familiarity with money in order to build a stable foundation for the future. The question is, how do you make it engaging for preschoolers? Here are our 6 favorite money themed activities for your youngsters!
1. Learning About Coins: Time to Sort
To begin teaching little ones about money management, it's important for them to learn the money itself! A great place to start is to build their familiarity with coins. Grab a muffin tin and ten nickels, dimes, quarters and pennies. Challenge your preschooler to sort each of the coins and teach them the names. You could teach them how to make a pattern in each tin. For an additional challenge, you can label each muffin space with a value where the student can match to each coin's value. Show them that ten pennies have the same value as a dime and so on.
2. Playing Store
Use the materials you already have around such as play food or simple toys. Label each item with a price tag of five, ten, fifteen or twenty-five cents. Play pretend by giving each student a certain amount of change and teaching them that items always have a value that is exchanged for money. This can help them with counting and remembering the worth of coins.
3. Clip Coupons
Sure, you might take the more tech-savvy approach when it comes to coupons, but the old-fashioned practice of clipping coupons is a fun hands-on way to teach youngsters the worth of items. Once you have the coupons of interest, take them to the store with you and make a game out of finding the items. This is a helpful way to teach them about the importance of saving money.
4. DIY Piggy Bank
Every child should have a piggy bank! Whether it's a simply decorated jar or a paper mache pig, it is a smart way to teach them about saving early!
5. The Allowance Game
If you want to teach children that in order to get money, they need to work for it, there is no better time to start an allowance. For a preschooler, you can have them do simple tasks around the house. They can "purchase" items from your own DIY store in the home. You can purchase candy or small toys that the child can exchange their earnings for. Let them know the value of each item and clearly explain what they would need to do in order to earn this.
6. The Dollar Dance
To teach preschoolers about bills, grab some ones, fives, tens and twenties. Throw them in a hat and draw one at random. Whatever value you draw, have the child do something X many times. For example, if you drew a $5 bill, you could have them spin in a circle five times. This will help them to become familiar with the value of each bill and where it is located.
These are all good ways to start teaching today's youth not only about money but how to manage it well. Starting young will give them the confidence they need to be successful with their purchase and investment decisions in the future. Open a savings account for your little one today to teach them more about money!