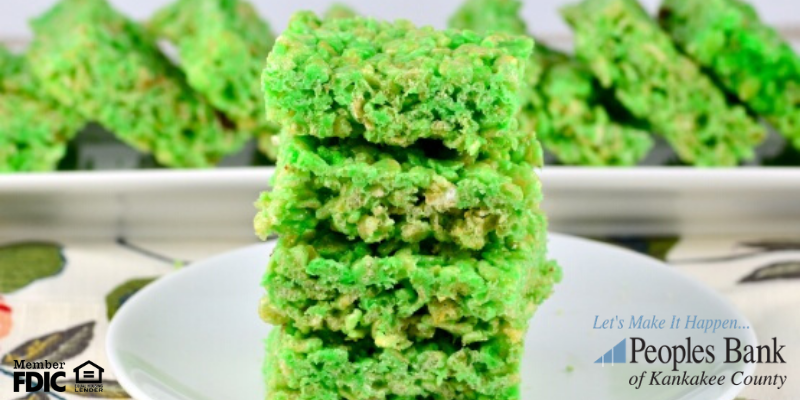 Whether you're throwing a St. Patrick's Day party, making dinner for your family or just feel like getting into the Irish spirit, these are the perfect recipes for you. Check out these easy and delish Irish dishes ­– no luck required!
Slow Cooked Corned Beef and Cabbage
This is one of the most popular Irish dishes, but even better since it's simple. This recipe can be followed in the morning so the food can slowly cook all day, which makes serving dinner easy and delicious at the same time.
Ingredients:
1 corned beef brisket (3-4 lbs.)
1 onion, chopped into chunks
3 cloves of garlic
2 bay leaves
3 cups of water
2 lbs. of potatoes, peeled & quartered
1 head of cabbage, cut into wedges
Instructions:
Place onion chunks in the bottom of a 6-quart slow cooker along with the corned beef and seasoning packet.
Pour enough water into the cooker to just cover the corned beef, then add the garlic and bay leaves.
Cook on a low temperature for 8-10 hours.
After 3 hours: add the potatoes and carrots.
2 hours before serving: add cabbage wedges.
Remove the corned beef to cool and slice.
Now you're ready to serve your slow cooker corned beef with a side of carrots and cabbage! Pretty easy, right?
Shepherd's Pie
Everyone loves a delicious Shepherd's Pie, but not everyone has hours of time to follow a complicated recipe. Here's our favorite simplified recipe you can complete in under an hour – don't miss out on this staple meal!
Ingredients:
1 lb. of ground beef
½ an onion, chopped
1 garlic clove, minced
¾ cup of tomato paste
¼ cup of Worcestershire sauce
1 ½ cups of beef broth
4 cups of frozen mixed veggies
1 lb. of white or russet potatoes, peeled and cut into smaller chunks
¼ cup of Greek yogurt
¼ cup of milk
1 teaspoon of kosher salt
1 cup of shredded cheddar cheese (will be divided)
Instructions:
Preheat your oven to 350 degrees and grease a 1 ½ quart casserole dish.
Place the peeled and cut potatoes in a covered pot of water, bringing it to a boil.
Remove the lid and boil for about 10-12 minutes or until the potatoes are tender.
Heat a skillet over medium heat, adding the ground beef, onion, garlic and a pinch of salt and pepper. Cook and brown the meat while breaking it up, then drain any grease.
Stir in the tomato paste, Worcestershire sauce, beef broth and then the vegetables. Bring it to a simmer and cook for 10-15 minutes until it's slightly thicker.
While your meat mixture is simmering, you can drain the potatoes and place them back in the pot.
Add ½ cup of your cheddar cheese, Greek yogurt or sour cream, milk and teaspoon of salt to the potatoes. Mash them to your desired consistency.
Add the meat mixture to the casserole dish, then top with the mashed potatoes and remaining cheese.
Bake for about 35 minutes, or until heated through and slightly browned.
There you go – now you've made a delicious Shepherd's Pie in under an hour. Enjoy!
Irish Soda Bread
Making homemade bread might seem tricky and time-consuming at first, but we've found a quick and easy bread recipe anyone can follow. Trust us, you'll want to give this amazing old-fashioned bread a try!
Ingredients:
4 cups of flour
4 tablespoons of white sugar
1 teaspoon of baking soda
1 tablespoon of baking powder
½ teaspoon of salt
½ cup of softened margarine
1 cup of buttermilk
1 egg
¼ cup of melted butter
¼ cup of buttermilk
Instructions:
Preheat your oven to 375 degrees and lightly grease a large baking sheet.
In a large bowl, mix the flour, sugar, baking soda, baking powder, salt and margarine.
Stir in the cup of buttermilk and egg.
Turn the dough out on a floured surface and knead, forming it into a round and placing it on a baking sheet.
In a bowl, combine the melted butter and ¼ cup of buttermilk, brushing the loaf with the mixture.
Use a sharp knife to cut an "X" in the top of the loaf.
Bake for about 45 minutes, or until you can insert a toothpick in the center and it comes out clean. Continue brushing the butter mixture onto the loaf as it bakes.
All done! Now, enjoy your delicious, homemade buttery bread!
Are you hungry yet? Don't worry - these yummy eats will leave you feeling as good as gold. Have a great St. Patrick's Day!