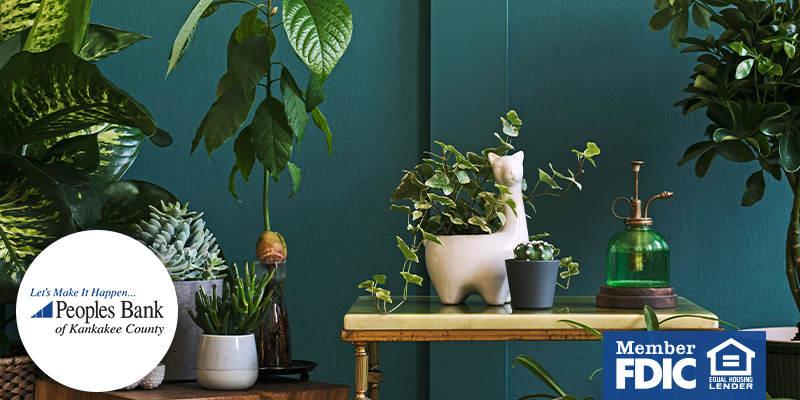 I don't know about you, but we are feeling inspired to tackle home projects and make some improvements! Spring and summer are great times to address those projects you've been putting off. Whether you are selling, renovating, or just wanting a little home facelift, use these tips to inspire a home refresh.
Sometimes our homes can start to feel plain or boring. Rather than stretching the wallet on something new, begin by rearranging the furniture. First, pull the furniture away from the wall and try a more open feel. Another option is to rearrange the existing layout or switch items from room to room. Sometimes simple changes like these can give a fresh, new feel.
This seems like the obvious when it comes to spring and summer cleaning - DECLUTTER! Clearing off surfaces and putting things away can add a fresh feel. Decluttering allows you to see what you have, see what you might want to purge, and rearrange. The declutter, clean, and organize steps are a must when freshening up your home.
Switch Out Your Wall Décor
Switching out wall décor is a quick and relatively inexpensive way to make a big impact on your space. Simply moving pieces around or mixing in new items can easily freshen your home. Add in a pop of color with new pillows or a throw. Mirrors can open a space and make it feel larger. Maybe it is time to frame family photos to create a new wall gallery.
Refresh Your Color Palette
Refreshing your color palette allows you a clean slate to change up your style. Whether you add in one new pop of color or completely change them all, your color palette can make a dramatic difference. Believe it or not, color can affect mood and emotions, so a change in this area can create a deeply felt refresh.
Change up your bedroom by swapping your bedding and pillows. Whether you add a new comforter, plush pillows, or a decorative throw at the foot of the bed, switching up your normal bedding will add luxe and a fresh feel.
Changing up your home's scent is an easy way to freshen the air and give a homey, clean feel. Candles can switch up your scent and add to your décor. Oil and reed diffusers may be an idea to try as well!
As you rearrange and restyle, consider DIYing an old furniture piece rather than getting rid of it. Work with the bones and spruce it up to work as a functional piece in your refreshed home. There's nothing some paint and new upholstery can't improve.
Swap Ou

t

Your Window Treatments and Rugs
As you rework your furniture, décor, and color palette, you may want to swap out your window treatments or rugs. Both can add new color and texture and pull everything together. Rugs can define spaces and window treatments can help add warmth.
Greenery is a good idea for giving a refreshed look as well. Whether you add in fresh or faux greens, it is a great home filler. From succulents to palms, ferns to cactus, the possibilities are endless.
Finally, lighting can also affect how we feel in our home. If all you have is overhead lighting, consider investing in table or floor lamps to introduce softer, ambient lighting. A well thought out lighting plan can truly bring a home to life.
A home refresh is a perfect way to get that homey feel we desire without completely purchasing new. You do not need to completely remove the old to get a new, fresh look. Summer is right around the corner; it is a great time to spring clean, spruce up and find love for your space again.